Tower block trauma extends beyond Grenfell
25 June 2018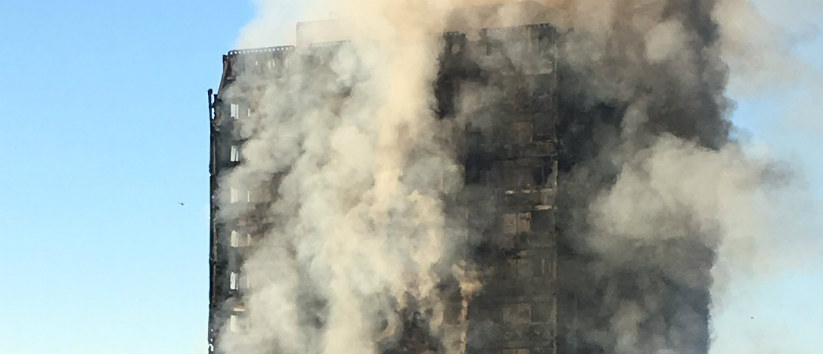 Boya Dee lives in an apartment building laced with the same flammable cladding used at Grenfell Tower. Fire drills terrorise.
A year on from the fire at Grenfell Tower, the 24 floor block still stands - etched into the skyline of West London, serving as a constant reminder of the tragedy that occurred on the 14th of June 2017.
"I wonder what I would've done if I was on the 24th floor that day."
There is a lot we will continue to learn about ourselves because of Grenfell. Not only how capitalist greed led us down this path and how so called "social cleansing" or gentrification can be a danger to our society - but it also teaches us a lot about ourselves psychologically.
The social impact will certainly be branded into the community with the hot iron of justice and equality. Things will never be the same for local residents or for people in any other tower block, in any other area across the country after this. It's sad that people had to die for this to be the case but Grenfell has set a precedent that will act as the yardstick for how we assimilate with each other while living in a society that operates on a class divide. Bitter sweet.
The response to the fire has also been like nothing this country has ever seen. The togetherness we have shown at a time in history where xenophobia has reached chilling proportions is true love and a beautiful thing indicative of where mankind can and should be. It is the divide between the wealthy and the poverty stricken that will undeniably take a beating. The narrative will continue and where it leads is unknown, but rest assured the fight of the many will persevere.
Hatching escape plans
I have the unfortunate pleasure pf living in an apartment building laced with the same flammable cladding from the Grenfell Tower. We've periodically had letters from the developers - who obviously don't want to foot the bill for replacing any cladding - telling us not to be worried. Yeah right! I've genuinely ran through my escape plan hundreds of times in case a fire breaks out. I've witnessed children crying hysterically after an impromptu fire drill. Asking their parents if they were going to die like the people in Grenfell.
We will all forever be affected by this event. The mental triggers remain strong in our minds. The vision of a new Tower block being constructed conjures up thoughts of smoke filled stairwells, a black cloud rising directly from the pits of hell. I wonder if a dodgy developer is cutting corners, I catch myself thinking. I wonder what I would've done if I was on the 24th floor that day. Imagine being burned alive…. The Grenfell Social media slogan #NeverForget has never felt so real.
The mental health impact has been immense, thousands still suffer from trauma and it is estimated that the ripple-effect will be felt for many years to come. The Government's response to the fire was abysmal to say the least, but this is where they need to step up to the plate and provide ongoing mental health services for those affected by the fire.
The social and psychological effects of this event will inevitably be the most long lasting. It's how we deal with them in the long-term that will define us.
Show your support for what you've read today. Enable us to keep finding and sharing the ideas that will better shape tomorrow's mental health care.