Sectioning: Overwhelming support for two new legal rights
Mental Health Today polling has established that the public and mental health professional agree it's time for individuals to be given far more control over their care.
Mental health professionals and the public agree that the law needs to change to give individuals sectioned under the mental health act two new legal rights, surveys of over 600 Mental Health Today readers have established.
The surveys form part of Mental Health Today's In Our Right Mind campaign, which is pushing for new rights to be enshrined in the new Mental Health Act being drafted this year.
The results of the first polls in The Our Right Mind Campaign are shared today: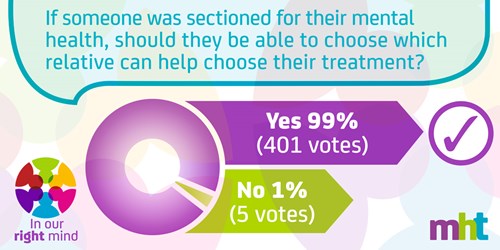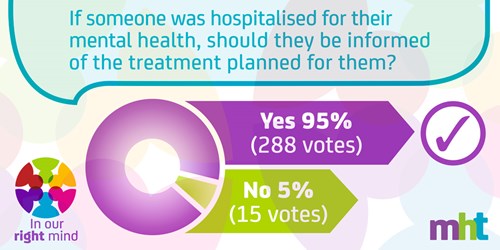 Under current law, individuals who are sectioned can be given invasive treatment including surgery and electro-convulsive therapy without being informed of it first, while advocates are chosen from a list.
An independent team appointed by the government to review the current overarching mental health legislation – the 1983 Mental Health Act – are mandated to deliver recommendations to the government in late 2018 for replacement legislation.
MHT response
Mental Health Today co-editor Nadine Moore said: "The Mental Health Act is shockingly out of date. At the moment it does the very minimum to protect the rights of people with mental health conditions who are sectioned and this needs to change."
"Our survey shows that the UK has moved on, the public believes that individuals should have more control over their care, so the Mental Health Act needs to reflect this."
"Mental Health Today will make sure the views of those with mental health needs and those of the professionals who work in mental health care day in, day out, are heard in advance of the new law being shaped."
"We all have a unique opportunity this year to produce the mental health care we all want to see and this is the first real chance any of us have had to do just that for more than three decades. We must seize it."
"We will be sharing all our evidence with Professor Sir Simon Wessely, who is leading the independent Mental Health Act review."
Trust and advocacy
Author Karen Manton, who was hospitalised several times for her mental health before making a full recovery recently, said: "I was extremely frightened being sectioned under the Mental Health Act, which happened almost every two years for a decade."
"I was treated for anxiety and depression however it was several years later before I was given what I believe to be an accurate diagnosis of bipolar disorder."
"I had no idea how long I would be held and had to endure medication administered by whichever way they chose. It is imperative that people are informed of the treatment plan from the outset and it later becoming a two-way discussion."
"Mental illness caused me to become very paranoid and very unsure as to who I could trust. As I was going through a divorce, I would have chosen someone who I felt would have my best interest at heart to advocate for me, not necessarily my next of kin."
Mental Health Today's In Our Right Mind campaign is backed by crowdfunding and supporters are invited to make a small contribution or share their experiences with the website.
Show your support for what you've read today. Enable us to keep finding and sharing the ideas that will better shape tomorrow's mental health care.