World's first 'mindfulness' carriages hope to transform the daily commute
Following on from more than a year where distance has been the mantra and working remotely has become a widespread norm, going back to the daily or weekly commute can at times feel almost alien or incredibly stressful. Tackling the lingering anxieties of Covid-19 and the drudgery of the daily commute, the 'Inner Journey' initiative aims to offer Londoners an "oasis".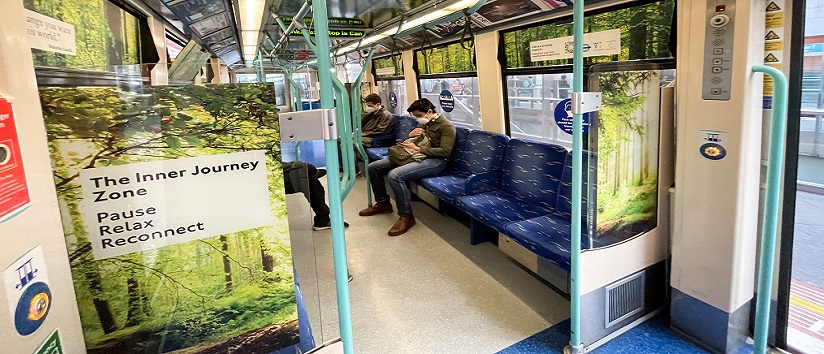 Ahead of World Mental Health Day on Sunday 10th, KeolisAmey Docklands (KAD), Docklands Light Railway (DLR), and the London based Charity 'Youmanity' have announced the deployment of the world's first 'mindfulness' passenger trains to support Londoners wellbeing and mental health.
Twelve modified carriages pulling up to the entire DLR network have been transformed from metal functionality to soothing spaces inspired by nature
Re-entering the office and being packed in like sardines on the way there, whilst a seemingly omnipresent virus is still rampant, can clearly be nerve-wracking. The KAD, DLR, and Youmanity have recognised those fears and are hoping to offer passengers a quiet space to enable them to experience the restorative benefits of mindfulness and meditation.
Dan Barrett, director of Thrive LDN, said: "The Inner Journey initiative is a great way of reminding Londoners that even a small pause, some breathing space, can start the journey to feeling calmer and more resilient. It is also an innovative way for how we can help encourage each other to talk and act more when it comes to mental health and wellbeing. As we emerge from the coronavirus crisis, this has never been more important."
Commuters will also be able to download the complimentary 'Brain Recharge app' to access meditation tracks offering a total immersion into the picturesque images of mountains, woods, and oceans that surround them.
'Covid-19 has generated challenging times, but it has also created opportunities for a closer look into our lives and human values'
Angelo Iudice, the architect of the initiative and chairman of Youmanity, said: "[We] would like to reach out to anyone who is anxious about travelling. You don't have to be an expert in mindfulness to download the available free app, to take a break and enjoy a moment of relaxation whilst commuting to and from work."
"As a charity, Youmanity focuses on the importance of mental health. Devising this project came naturally as many people, including myself, are anxious when using public transport. This anxiety became more pronounced following the pandemic."
"[Although] Covid-19 has generated challenging times, it has also created opportunities for a closer look into our lives, human values, and for getting our priorities right."
Mr Iudice commented that the project will run for at least six months from the 10th, and hopes to inspire other rail companies, particularly the underground, to offer a similar, "quiet space for commuters whose neurodiversity could benefit from that environment".
He added that implementing a similar project nationwide would be "incredibly straightforward and cost-effective" as the spaces already exist, "all that would be required is a little investment to designate an area and construct an oasis – for mindfulness and wellbeing".