Youth Select Committee calls for end to 'cinderella mental health service'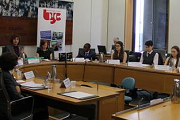 The Youth Select Committee have claimed there is "much work required to break down the stigma associated with mental health problems" after launching a new report on 'Young People's Mental Health'.
Launched as part of Parliament Week, the report considered both written and oral evidence after a British Youth Council poll of 969,992 highlighted it as a key issue. It concludes that mental health services for young people are critically underfunded
The report was launched at Portcullis House at a briefing chaired by Clerk of the House of Commons David Natzler and attended by Youth Select Committee members, Minister Alistair Burt MP (Department for Health), Sam Gymiah MP (Department for Education) and Dr Sarah Wollaston MP (Chair of Health Select Committee).
Chair of the Committee Rhys Hart said: "Our extensive investigation into young people's mental health has given the committee insights into areas of improvement for mental health services. From the funding void, to a lack of cultural awareness, we have discovered a variety of issues which must be acted on without delay.
"With the active support of Ministers Alistair Burt and Sam Gymiah, the committee believes our recommendations can make a fundamental change in the foundations of the UK's mental health provision and go even beyond that. The committee is very keen to hear the Government's response to our recommendations."
The report offers recommendations across three key areas: funding and the state of services, a role for education and awareness, stigma and digital culture.
- The Committee is calling for increased funding, joint working and specialist training for GPs. "Young people's mental health services are not equal to those offered to adults, and local authorities should ring fence funding for young people's mental health".
- The Committee believe attainment levels should be set in relation to mental education, much in the same way that it is for physical education. "These should be followed up by Ofsted and form part of school inspection assessments".
- The Committee suggest the creation of a specialist NHS app to offer information and signposting on mental health, as well as a broader campaign to reduce the stigma attached to the idea of being mentally unwell.
The Youth Select Committee has eleven committee members aged 14-18, and includes Members of the Youth Parliament (MYPs), youth councillors, a young mayor and one elected representative from each of the devolved nations. It is a British Youth Council initiative, supported by the House of Commons.