Vibrance use service users to turn training on its head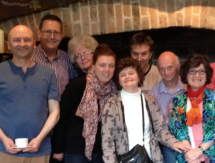 A charity's scheme that sees service users help to train the staff who provide their care and support has now seen 9 'internal trainers' qualify.
Ilford-based social care charity
Vibrance's service user trainers
help to deliver training sessions to its workforce who support 850 adults throughout London and the southeast with learning disabilities and mental health issues.
The internal trainer scheme, which started in 2011, encourages service users to join the charity's staff training team as co-trainers. The service users become qualified trainers in their own right and participate in the development of learning programmes that range from support planning, sharing their experiences as part of Vibrance Corporate Induction, environmental and health and safety audits.
Further reading:
Specialist learning disability training farm wins prestigious design award


Head of learning, Catherine Brewster, said: "To have service users delivering parts of training sessions and hear things directly from their point of view is incredibly powerful and it really makes staff stop and think.
"New staff are often blown away by it at their induction sessions, because they will have never experienced anything quite like it before. The scheme also benefits those service users who decide to become trainers too. It boosts their confidence and gives them great pride to be involved.
"It can even help them overcome their own personal barriers. One of our trainers had a fear of travelling prior to getting involved; since joining the programme and having to travel to various venues to deliver the training, he has been able to overcome his fears."
Vibrance hopes the scheme will continue to grow, with plans for a service-user trainer to help to deliver each of their 18 internal training courses by 2018
Chief executive Paul Allen added: "At Vibrance, we ensure our service users are fully involved in the organisation's decision-making processes and the running of the services they use. We believe our service user internal trainer scheme is quite unique and we're incredibly proud of everyone involved."
For more information visit
www.vibrance.org.uk/