Using evidence from the Race Disparity Audit to reform the Mental Health Act
The results of the Race Disparity Audit are in. Patrick Vernon, Director of Black Thrive, delivers his verdict on what affect structural racism has had on mental health care in the UK and how best to move forward.  
Every five years, the UN Committee to End Racial Discrimination (CERD) reviews Britain's record on race equality. The last report on race equality in Britain was in August 2016. This was further reinforced by The Equality and Human Rights Commission (EHRC) report that came out at the same time.
Both provided clear evidence that inequality is endemic across every area of life in modern Britain, including mental health, education, employment and the criminal justice system.
In response Teresa May as Prime Minster launched the Race Disparity Audit across all government departments. Fourteen months later we now have a comprehensive analysis on a dedicated website highlighting the nature of structural racism in Britain.
What does the Race Disparity Audit tell us? 
When examining some of the data around physical and mental health of black people the following stark statistics remind us that sadly this is still one of the biggest travesties of human rights and system failures in health and social policy since the closure of asylums in the 1980s:
Detentions under the Mental Health Act - Black people are 4 times likely to be detained compared to white population (this is possibly higher if you include mixed race race)
Access to treatment - Black and Asian people are less likely to receive treatment for mental or emotional problems and thus less access to talking therapies
Gender and common mental disorder - 29% of black/black British women experienced a common mental disorder in the past week, at a much higher rate compared with White British women and other BAME women
Psychotic disorder - Significantly higher percentage of black men experienced a psychotic disorder in the past year than white men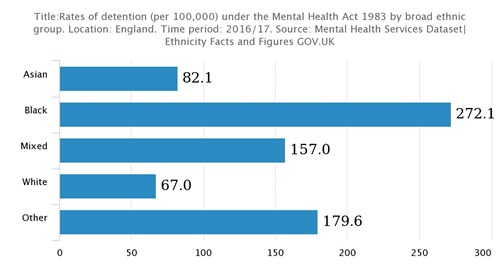 What are the consequences of over representation of black people in mental health services? 
 There is no space to develop a black perspective on solutions and new models of care
The impact of overrepresentation of black people in mental health services for the past thirty years or so has a number of consequences for policymakers, politicians, NHS and social care providers, and the black community:
Many black communities have lost trust in services due to experiences of racism and cultural differences, as highlighted numerous reports especially in the 2002 report "Breaking the circles of fear."
Stigma around mental health still exists, making it difficult to talk about problems and to seek early help for fear of being given a diagnosis.
The ingrained prejudice and stigma against the Mad, Bad, Dangerous, and Black presents a massive challenge to the black community involved in the mental health system.
Inequality and discrimination of black communities can lead to increased risk of psychosis.
There is a lack of black representation in decision making within the NHS, as well as amongst employees of mental health services.
There is a lack of capacity in communities to deliver mental health interventions.
Most health spending is tied up in acute rather than preventative services.
There is difficulty in addressing causal factors for poor mental health, such as deprivation and social exclusion, which are disproportionately present in poorer and black communities.
What is clear reflecting on issues around policy development and commissioning of mental health services is that there is a collective system of failure plus a lack of leadership at all levels.
Sadly, the current models of service development and thinking are not working and there is no space to develop a black perspective on solutions and new models of care. 
We have had more than thirty years of race equality training, strategies, pledges, and indicator sets which have failed to shift the agenda, much to the dismay of many service users, frontline staff, senior system leaders, activist and politicians.
This further adds to the malaise and the perception that "black mental health" is an intractable issue that is impossible to address.
How can we affect change? 
Thus, we need to create a new agenda by exploring structural racism in society and its impact on mental health services and a wider approach to mental public health.
A new initiative called Black Thrive is a new partnership approach that was established in June 2017 to tackle the issue of mental health in the London borough of Lambeth. Lambeth is one of the largest black populations in Britain and is often seen as the centre of black cultural expression and the home of black Britons as a result of the Windrush migration from 1948.
Black Thrive came out of the forty recommendations from Lambeth Council establishing an independent commission called the Black Health and Wellbeing Commission, which looked at the implications of the death of Sean Rigg in 2008. It examined how mental health services and the public health agenda could be improved to support African and Caribbean community's mental wellbeing.
Black Thrive is using the principles and values of co-production where the community and statutory partners worked together around a solution focus using a shared measure system and unpacking big data.
This is the real work that the government must adopt and encourage across all public bodies if the Race Disparity Audit is to have any meaning and value.
Also, it would be great for the government as part of the delivery or action plan, to take on board two recommendations from the UN review of race equality in Britain which could make a difference to the Black community:
"The State party should take effective measures to ensure the accessibility, availability and quality of health care services to persons belonging to ethnic minorities throughout its jurisdiction. The Committee stresses the particular importance of adopting measures to effectively address the overrepresentation of persons of African Caribbean descent treated in psychiatric institutions and the disproportionate use of restraint, seclusion and medication."
"Recalling its general recommendation No. 34 (2011) on racial discrimination against people of African descent, the Committee recommends that the State party consider adopting a national action plan to combat discrimination against persons of African descent, in partnership and consultation with communities of African descent, with concrete targets, implementation mechanisms and adequate resources. The Committee also encourages the State party to prepare and implement a suitable programme of measures and policies for the implementation of the International Decade for People of African descent, proclaimed by the General Assembly in its resolution 68/237, considering General Assembly resolution 69/16 on the programme of activities."
With the government's plans to have an independent review of the 2007 Mental Health Act under the leadership of Professor Sir Simon Wessely we can use the race disparity audit data to provide an opportunity to shape the review and to engage with a with range of stakeholders especially from BAME communities to influence the review and proposed legislation.