UCLan student creates mobile app that provides help for people in suicide crisis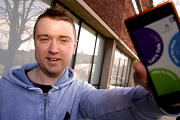 A student from the University of Central Lancashire (UCLan) has developed a free mobile app that provides help to anyone in suicide crisis or for people who are worried about deterioration in their own mental health or that of their loved ones.
Third year physiotherapy student Patrick Shaughnessy created TrustTalk24/7 a year ago after he lost a cousin and friends to suicide and decided that "something needed to be done."
Since then he has teamed up with Console, the national suicide charity of Ireland, along with charities The Samaritans, Aware and Bodywhys, to raise more than €15,000 (£10,885) to get the project off the ground. TrustTalk24/7 has now officially launched in Ireland with a view to bringing it to the UK later this year.
Describing his journey so far, Shaughnessy said: "I had a strange dream where someone thanked me for helping them using a mobile app and the idea came from there. I then approached Console and the project just took off.
"I've been overwhelmed by the donations I've received from family, friends, local businesses and people in general to help me create what I hope will be a life-saving tool. If it makes a difference to just one person then it will have been worth it.
"I wanted to reach out to younger people in particular and thought modern technology is the most accessible way of doing it. Everyone has a mobile phone these days and an app that can help at the touch of a button is a discreet and fast way of doing so."
TrustTalk24/7 is split into three sections:
- LetsTalk is aimed at people in suicide crisis who need to speak to an accredited counsellor immediately. By pressing a call button on the app, a person is directly connected free of charge to a counsellor at any time of the day
- WhySoSilent asks the user questions if they are worried about themselves or someone else. The questions relate to suicide, depression and anxiety, and will relay the relevant information or call options to the user depending on their answers
- MindMyMind24/7 delivers daily inspirational messages to the user so they can relate these to their lives and motivate themselves or someone else.
County Councillor Peter Roche from County Galway is an ambassador for Console. He said: "As a family who has first-hand experience of loss through the suicide of our beloved son Colin in 2010 at the age of 23, I am passionately supportive of the concept that Patrick has designed. Following on from our loss, I went very public here in Ireland in promoting services available to people who were in crisis and this application is a fantastic tool to help people when they most need it."
TrustTalk24/7 is free to download in Ireland, and will be available in the UK later this year - to find out more visit: https://itunes.apple.com/us/app/trusttalk24-7/id981810811?mt=8