Simon Wessely: 'ECT is in my own advance directive'
Professor Simon Wessely, chair of this year's Mental Health Act review, discusses issues including treatment preferences, advance notices and consent in an exclusive interview with Mental Health Today. 
The man leading a review of England and Wales' Mental Health Act has shared details of his own 'advance directive'.
Professor Simon Wessely has recorded how he would like to be treated, should he be hospitalised for his mental health in the future.
Wessely was appointed by Prime Minister Theresa May a year ago to oversee a review of the mental health act. The review involves a committee that meets regularly to discuss evidence, proposals and competing potential issues. Plus it entails regular dialogue with the public and mental health professionals.
What is the Mental Health Act and why do some find it frightening?
The Mental Health Act allows doctors to treat individuals against their will. The most controversial treatment that is still approved regularly – some insist it is performed infrequently, but statistical trends indicate otherwise – is electroconvulsive therapy (ECT).
A 2007 amendment to the Mental Health Act called for advance wishes to be "respected". However, it also ditched a requirement for disorders justifying detention to be "treatable", introducing an arguably less therapeutically minded, more risk-averse "appropriate" test instead.
If two doctors diagnose that you have a mental health disorder (e.g. depression, bipolar disorder) and deem that you need to be treated for it to protect you or the public from your possible future actions, the choice and course of treatment is ultimately, lawfully, out of your hands as a patient.
Under the Mental Health Act in its current form, you can record advance treatment wishes before you're hospitalised. But all advance treatment refusals other than neurosurgery can be overridden if deemed 'appropriate' by clinicians.
Should advance refusals of ECT become binding under the new Mental Health Act?
Wessely believes there remains a role for ECT in mental health care.
"In my advance directive, I've said if I get old and get very severe melancholic depression, I would like ECT," the psychiatrist told MHT, speaking after a recent London workshop for the new Act.
Earlier in the day, review vice-chair and suicide survivor Steve Gilbert referenced the "life-saving" qualities of ECT during a group discussion on advance statements.
Mental Health Today asked Wessely to describe how ECT, which comprises induced brain seizures, contribute to improved mental health.
ECT has its backers. But what are its tangible therapeutic qualities?
"Have you ever seen anyone suffering from catatonia or depressive stupor?"
"These are some of the most severe forms of mental illness we have."
"These are people who have stopped speaking, who have stopped eating or drinking, and who – in the old days – died. They died of starvation. There was no treatment available. You couldn't feed them. It wasn't possible. And they died. And it's a really very unpleasant death."
"That happened in the era before psychotro… [tails off, but presumably was going to say psychotropics] before we had promazine [an antipsychotic]… and before we had the ability to do nutrition and before we had ECT."
"That was quite a common occurrence in mental hospitals. We don't see those illnesses half as commonly now as we used to, thank god, but they are still around. They haven't gone away."
MHT attempts to ask whether the main benefit of ECT is found in a perceived capacity to spark individuals into a conversation about food; individuals who were previously not engaging verbally or physically. The answer spoke around the subject, rather than directly to it.
Changing tack, MHT asked whether advance refusals of ECT should become binding under the new act. Wessely suggested to MHT, (or we inferred – you decide) that if ECT wasn't attempted, then it some cases it would be hard to discharge patients, as it would be difficult to demonstrate that the risk patients posed to themselves or others had been satisfactorily reduced by their stay in hospital.
Here's what we were told: "We're still discussing. The pros are fairly obvious as to why you should be able to, in advance, refuse treatment."
"The cons are these, and they have worried me from the start. What might happen, and it's happened in other jurisdictions, would be that someone is detained because of risk and illness and they refuse treatment completely, but they're still considered to be at risk to themselves and others."
"You then get into what we really don't want, which is a kind of preventative detention. Then you're also impeding other rights that people have."
"There's lots of competing [human] rights: right to life, right to family life, right to maximal attainable health… so I think that's a tricky one."
"Should someone be able to, as someone said today, be able to refuse life sustaining nutrition? I mean, we're not talking about terminal illnesses here or locked in syndromes."
"For someone in a catatonic stupor, or a depressive stupor who's not talking or eating at all, ECT is an effective treatment."
"To completely refuse that I think would be… we haven't yet come to a view, but we've heard from a lot of service users who have told us that, for all its faults, ECT has saved their lives and they're grateful."
MHT has published one such testimonial recently. We've also heard from others who have been left with memory loss and/or agoraphobia as a result of the treatment. Many say the mental health disorder they were diagnosed with simply resurfaced again following the procedure.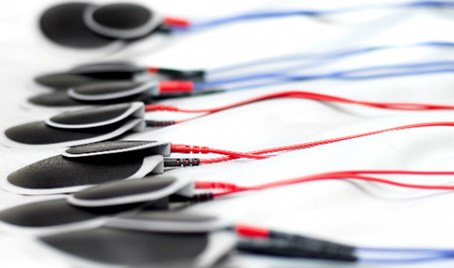 Certainly, the damage caused by brain seizures is well known to neurologists and individuals living with most forms of epilepsy. Overriding people's legitimate concerns feels potentially harming, in a psychological as well as physical sense. Can it be justified?  
Therapy or gesture to risk aversion?
The Mental Health Act review team are touring England this month, asking for feedback on their interim report.
"If advance wishes aren't binding, what's the point?" one attendee said in Liverpool last week.
Retaining a level of discretion for doctors to override advance treatment wishes will be a hard sell to many people with mental health needs. Will it represent a means to an end to allow more individuals to be 'passed' to return to the community?
The Mental Health Act review team will not write the new law. They will merely share recommendations that parliament will need to vote through amid other scrutiny processes common to all new legislation.
The government commissioned the Mental Health Act review for three reasons. One relates directly to outdated practices: "Some processes relating to the act are out of step with a modern mental health system, including the balance of safeguards and requirements for consent."
The brief continues: "Some of the solutions are likely to lie in practice rather than the legislation itself. The review should consider practice-based solutions wherever possible."
"The review will help government create a forward-looking plan of changes to legislation and practice, resulting in an enduring legacy of mental health support.
The primary objective, however, is to reduce detention rates. We have never actually been told why, though it's a mission virtually everyone would like to see realised.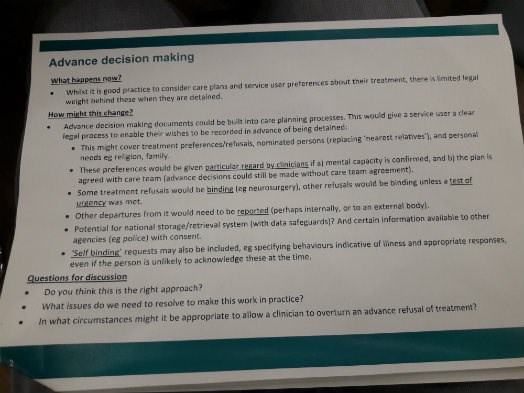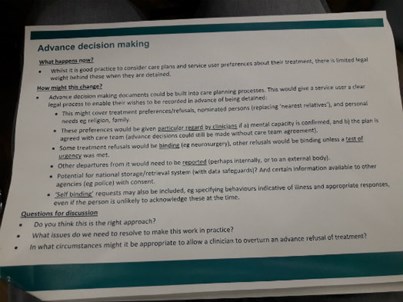 The above image is a slide illustrating how advance decision making is being considered by Wessely's team currently. We asked whether the Review Team's recommendations, pegged for December, should be ambitious or pragmatic.
"A recent publication looked at the outcome of the last few hundred inquiries, reports, royal commissions etc. Not in our area (of mental health), but other areas. Very few of them achieved their objectives. So I've been trying to see what can we learn from that."
"Sometimes it's an outside event – a snap general election and things like that – of which we would have no control."
"Sometimes, it's through lack of ambition and sometimes it's through too much ambition."
"You have to be very mindful of the cost of all the things we're asking for too. I'm not going to get any audience at all with Simon Stevens (NHS England Chief Executive) unless I can tell him what it's going to cost.
Short and long term vision 
"We have to look to do it in two ways," continues Wessely.
"Firstly, what can we do straight away? We are currently in a very bad parliamentary and political situation. To rewrite the Mental Health Act from scratch takes years and years."
"We can't do that at the moment so we will end by saying what would we do, or what would we recommend, when we have a stable situation in which an Act can be rewritten and can go through what would be years of scrutiny and implementation."
"What would we then want? So big issues like, should we merge the mental capacity and mental health acts [currently you can record a decision to refuse chemotherapy for cancer that will be binding after you lose mental capacity, but you can't refuse ECT for depression in a legally binding way once you fall into depression]."
"We will say, 'we know we cannot do that in the short term, but we will give a view as to if that is, in the long term, the way we should be going."
"And obviously it would be nice to know what happens in [Northern] Ireland, which is attempting, but has not yet succeeded, in trying this out."
"We'd be very foolish if we did not pay attention to that. I also put a lot of store by what's happened in Scotland because they changed a lot of things ten years ago and they've had plenty of time to see what works and what doesn't."
Mixed feelings
Wessely's work on the Mental Health Act marks a return to forensic psychiatry, where he began his career.
"I had not realised many of the things that had changed since my early career developed and certainly the very detailed and prolonged engagement with a new generation of service users has been quite an experience," he says.
MHT asks how he has processed everything he has heard in evidence as part of the consultation thus far.
"The process has been invigorating. Some of it's been pretty painful too."
"I remain a great fan of my profession and very proud of psychiatry but some people have had experiences that shouldn't have happened and some of them are quite disturbing."
"Certainly some people, quite clearly, have been harmed by being detained under the Mental Health Act."
"They've ended up worse than they would have been if they hadn't. Or have gained other problems that they didn't originally have."
"This comes back to the fundamental thing that if we're going to continue to deprive people of their liberty, even for a short period of time, we have to make damn sure that we don't make them worse, for a start."
"Second, we have to do absolutely everything we can to make people better in the kind of environment where they might improve."
"Quite clearly we're not doing that in many, many cases. Not all. There's some excellent examples but far too many are not getting, you know… and because they don't have a choice – by definition they haven't got a choice – we have a higher standard than we do in the rest of the mental health care system to ensure that the way that they are treated – with respect and dignity as we've been talking about is better than in any other part of our system.
"I'm afraid that I'm inclined to the view that it almost certainly isn't [better]. And that's not a money argument, it may not even be a Mental Health Act argument actually. But certainly I think it leaves an overwhelming moral imperative that, if we're going to do this, and we are, then we have to make sure we do it better."
Mental Health Today will bring you more of our latest interview with Simon Wessely soon. Sign up to receive MHT's free weekly newsletters containing all our news, features, interviews and blogs.