PTSD and the healing power of art
Two mature students from the University of Sunderland who had both been studying Fine Art degrees have shared their experiences with incorporating their post-traumatic stress disorder (PTSD) healing journey into their art. Both students have expressed how actively engaging in their mental health through their art has given them a new way to understand and process their experiences.
Mature students, Simon Green and Su Devine came to their Fine Art degrees in very different ways but both have a diagnosis of PTSD. Simon came to his diagnosis after leaving the Army and Su received hers after an incident in her former career.
Simon's Journey
"I strived for years to overcome my mental health issues, but nothing seemed to work."
Simon originally served with the Armed Forces in Bosnia in 1996 and Northern Ireland between 1996 and 2002. After leaving the Forces in 2002, Simon spent around ten years isolating himself and suffering a huge breakdown in confidence, until eventually seeking help and receiving a diagnosis of PTSD.
Shortly after, Simon applied to the University of Sunderland to study Photography, Video and Digital Imaging. During this initial degree his wife, Suzanna was diagnosed and then sadly passed away as a result of a sudden and short battle with cancer.
Simon first started experimenting with how his art could help him process difficult things during this time, he documented his wife's struggle and the final days of her life in a photography project called '20 Days'.
After this difficult time, Simon sought support through the University's Wellbeing Team who helped him to graduate in 2020. Since then he has continued to study at the University, taking on a Masters in Fine Art.
Speaking about his experience at University and how studying photography and art have aided in his recovery, Simon said:
"The biggest thing that was missing from my life was a challenge, something to rise to and to put everything into. I don't think I'd really had that since I left the Army. University has given me the challenge I was looking for. The Army challenged me in many ways. I worked in environments that were incredibly dangerous, high adrenaline and under incredible pressure. University challenged me creatively, academically and revealed skills that I never knew I had."
Simon especially emphasised how much the confidence studying has given him made a difference, saying: "I started university with no confidence at all, in myself or my work, so it has been a benchmark for me, bringing together a lifetime of skills and experience and really making me aware of what I am capable of."
Since finishing his MA Simon has continued his study, this time undertaking a PGCE in Post-Compulsory Education and Training and also teaches photography regularly, as well as owning his own photography business, SR4 Photography.
Su's Journey
"Art has enabled me to talk to people about my PTSD and mental health in general."
Since coming to study Fine Art later in life at the age of 50, mental health has been a central theme in Su's work consistently.
In 2017 Su was diagnosed with PTSD following an incident at her work. After the incident, Su didn't leave the house for many months and still struggles to leave the house alone. Since then Su has completed a Fine Art degree in which she was awarded a first class.
Su has expressed how her art has aided her therapy:
"My artwork really helps with my PTSD as I can express myself and my feelings and focus on something other than my own mind…Art has enabled me to talk to people about my PTSD and mental health in general. I think the more we can talk about these issues, the more it will encourage other sufferers to open up about their problems, and the less stigma will be attached to it."
"I have found both the teaching staff and support technicians a tremendous support here at Sunderland. They are very understanding and encouraging," Su said. Su has continued her higher education and is now studying an MA of Visual Practice.
Showcasing healing
Since finishing their art degrees, Simon and Su's artwork has been chosen by the University of Sunderland to be on display for the next two years in their Edinburgh Building at their city campus.
Simon and Su's work has been selected as part of the University's curated exhibition, 'Sunderland Selects', which aims to showcase work from both students, staff and visitors. A photograph by Simon called 'Wear Bronze' features, which was taken on one of his many walks along the Sunderland coast during lockdown. A sculpture by Su, called 'Out of Darkness', features dresses that are coated in concrete and represents a moment frozen in time, before eventually moving forward.
Dean of the Faculty of Arts and Creative Industries at the University of Sunderland, Professor Arabella Plouviez, said:
"The artworks created by both Simon and Su appear quite different from each other, however, they both share a similar personal journey to manage and come through and manage their experience of trauma."
"Not only have they both used their art practice to support their own well-being, but they have also, in quite different ways, enabled us, as viewers, get a window into some of that experience."
Speaking warmly about the vulnerability present in giving their art over to be publicly showcased, Plouviez said, "Looking at these impressive works, gives you a sense of the immense bravery that these students have shown in bringing their own experiences into the public space."
The University of Sunderland's Vice Chancellor, Sir David Bell said: "Simon and Su demonstrate that you are never too old to succeed at university as they have been exceptionally talented mature students."
"They have also shown that art is a powerful way of dealing with mental trauma and, in their case, Post-Traumatic Stress Disorder. I commend them for the honesty of their work and their willingness to speak so openly about what it represents."
PTSD is a diagnosis that is slowly becoming destigmatised and more studied across the broad spectrum that comes from experiences of trauma. Brave individuals such as Su and Simon as well as organisations and institutions that support and encourage their healing will continue to be an essential part of that destigmatization.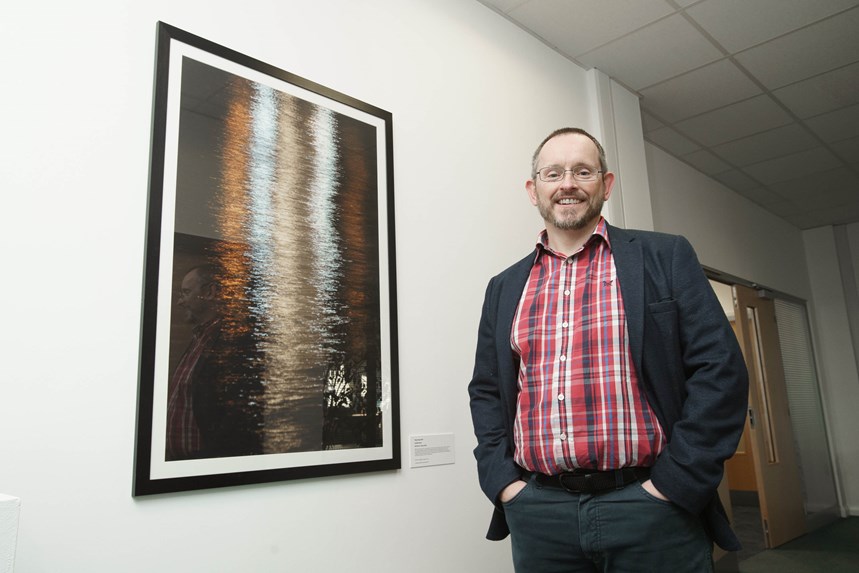 Simon pictured with his image, 'Wear Bronze'. You can see Su with her piece, as the header of this article. To hear more about Su and Simon you can watch them talk about their experience of studying art here.