Mental health at a glance: Wellcome announces Photography Prize 2021 shortlist
Wellcome, an independent charity supporting science to solve health challenges, has announced its 2021 Photography Prize shortlist. Now running for the third year, the 2021 prize cover three areas of urgent global importance – mental health, global heating, and infectious diseases.
In the Managing Mental Health category, provocative stories are told through the lens of the camera and insights are provided into the lives of people with mental health issues from London to Iran to South Africa. The images depict intimate and personal displays of challenges such as addiction, depression and the methods used to improve the photographer's mental health.
The overall shortlist consists of 90 photographs taken by both professional and amateur photographers from across the world, separated into categories of single and a series of images. Other topics covered in the categories include the impact of Covid-19 on transgender women in Jakarta and the rising temperatures in the Arctic Ocean.
Professor Miranda Wolpert, MBE, director of mental health at Wellcome, said that the prize was created to "visually engage" and "explore the human side of the three urgent health challenges" that her organization is trying to address.
"Mental health problems are predicted to be the main cause of global mortality and morbidity by 2030. We are committed to trying to create a world where no one is held back by mental health problems… Again, this year the shortlist has shown us how moved we can be by photographic record of quiet, intimate moments. From the tenderness of a father cutting his adult son's hair to a woman knitting."
Prof Wolpert added: "These images not only capture the diverse ways people experience and cope with mental health problems but also help us emotionally connect with those photographed. The shortlist includes approaches that are surreal, touching and even comfortingly simple."
"By capturing the richness of the individual moment, the photographer's art helps us all think about the different contexts people are in and challenge ourselves to consider what really helps different people globally. Together we need to consider how best to develop new treatments and approaches leading to more effective and personalized solutions."
A panel of judges spanning the arts and global health will decide a winner of each individual category to be announced on July 28th.
Managing Mental Health – single
Transparent Curtains: Living in the Closet at Old Age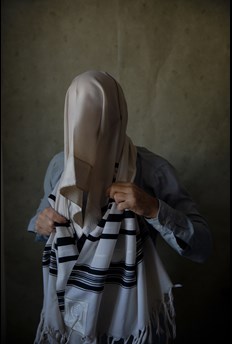 Oded Wagenstein photographed Michael (not his real name), who is in his 70s, and has a wife and children, but keeps his sexual orientation a secret from almost everyone he knows. He poses wrapped in his tallit prayer shawl to symbolize his concealed identity from his religious community in Israel. Fear of prejudice means that people in the closet are at higher risk of depression, but support groups can be an invaluable source of support in reducing that isolation.
Mr Wgenstein commented: "This image of Michael is a part of a seven-year ongoing photography project that explores loneliness and its effects on the soul among elders in different communities around the world."
"From Cuba to Russia and from the UK to Israel, I have met with dozens of elders and heard their stories on loneliness, exclusion, and the different ways they cope with these feelings. For Michael, who is in his 70s and living in the closet, hiding his sexual orientation from almost everyone he knows, it is weekly meetings of a social group designed for elderly gay men that allow him needed support and comfort."
"While the world population ages, our focus still remains mostly on the younger generation. From representations in the media to our politics. I wish people to know that promoting programs that help older people is something we can all benefit from."
Untangling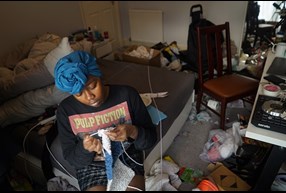 London filmmaker Jameisha Prescod, in a self-portrait, depicts herself knitting, which she said helps to soothe her mind. She explained that the isolation of lockdown exacerbated her depression, as she spent most of her time in the concentrated chaos of her room. However, knitting helped her to put "everything else of pause" for a while.
Ms Prescod added: "I want people to see my image and realize depression has many faces. Sometimes it takes the shape of traits we're told we shouldn't have. I grew up believing that being a messy person was unacceptable and that I should be ashamed of showing this side of myself to strangers. I hope that someone out there going through a hard time with a room that closely resembles mine sees the photograph and realizes that it's okay to acknowledge your current state of mind and not beat yourself up for doing your best to get by."
Head in Hole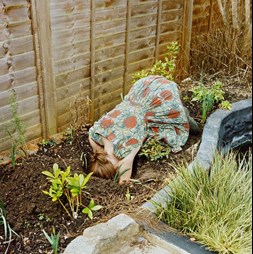 To help with her depression, Dulcie Wagstaff reconnected with nature in her garden. In this self-portrait, she confronted the cold with a summery floral dress and imagined burying herself to connect "with the earth whilst hiding from the world above".
Ms Wagstaff mentioned: "With this self-portrait, I wanted to try to translate my experience into something tangible that people may be able to relate to. Depression is so common, but those experiencing it often feel isolated, disoriented and scared… If we can build up a rich tapestry of experiences, I hope the next generation of people experiencing depression will, instead of feeling isolated, feel a part of a community and instead of feeling disorientated, feel they have the tools and knowledge to best deal with their situation."
"My main hope for this image is that it might encourage those who need it to get outdoors, into their gardens, parks, community spaces or the countryside, and to connect with the earth around them."
Disconnected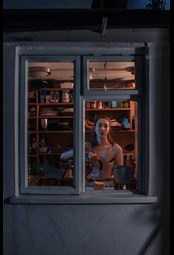 Kate Rosewell artfully depicted dissociation, the feeling of separation from yourself. Dissociation can be a way of deflecting intense trauma, but it can also occur in less extreme situations, not least in the isolation of lockdown, which in another way separates us from the wider world.
Ms Rosewell commented: "I chose to do a self-portrait in order to represent the feelings of dissociation where it is commonly described as 'watching your life as if it were a film'…  the idea that dissociation mentally separates one from reality makes others question its very existence due to dissociation heavily resting on the mind and lack of reality."
"I hope people will gain an insight into how it feels to be in an intense state of dissociation, but I also hope it will welcome those who experience this regularly to feel understood. Dissociation is not only limited to those with surrounding mental health disorders, but many people experience this feeling in regards to change, meaning many people can understand the state and the isolation it brings."
Dad Cuts My Hair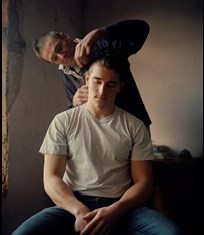 Since he was a child, Thomas Duffield's father has struggled with heroin addiction. After a long estrangement, they reconnected and found strength by addressing the mental health issues and vulnerabilities surrounding their shared experience. Here, the father cuts Mr Duffield's hair, an expression of rekindled intimacy and parental love.
Mr Duffield said: "Almost paradoxically, I believe that through addressing the deeply personal, there is opportunity to comment on the universal… over the years I have learned that many people share the experience of growing up in a household affected by addiction."
"Having grown up in this way, I've come to realize that many of the issues associated with addiction are deeply entangled with the stigma that surrounds it; talking around it, sweeping it under the carpet, the fear of what others might think. I believe that we should address these issues with understanding and that we should strive for empathy over sympathy, and inclusion over ostracization."
"The act of cutting each other's hair had an inherent intimacy to it, and the photograph presents a sense of closeness that has begun to develop over the past few years… In many ways, this photograph is the culmination of five years' work. While it took courage for me to reach out to my dad to begin this work, it also took great courage for him to participate, a gift for which I am so grateful. If the audience could take anything away from the photograph, I would hope that some people might look towards their own loved ones with a renewed aptitude towards forgiveness and understanding."
Managing Mental Health – series (two of the five contestants)
Friendship Benches Zimbabwe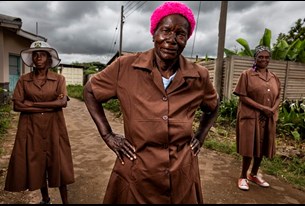 Brent Stirton was inspired by Zimbabwe's Friendship Bench programme, run by community grandmothers who counsel people with depression and other problems using principles of Cognitive Behavioural Therapy (CBT). The volunteers training lets them perform an essential service in a country with one psychiatrist for every 1.5 million people. The programme has now spread to five countries and has inspired similar initiatives in several others.
Mr Stirton commented: "Grandmothers are traditionally the most trusted confidants in families, and in an age where the elderly are so often disregarded, it was remarkable to see their effectiveness and renewed sense of purpose in their role as counsellors. In my job, I spend a lot of time working on what is wrong in different places; it was refreshing to see something positive, especially in a country like Zimbabwe, where people have really suffered. Zimbabwe is full of good people who have had their life potential stolen from them by a sociopathic leadership that has held onto power through brutalizing the population."
"I hope these simple images remind people that even if they can't afford an expensive psychologist/psychiatrist, just the act of speaking to someone about what you're going through can be life-saving. Don't stay silent if you can help it. Speak to someone." 
ADHD Portraits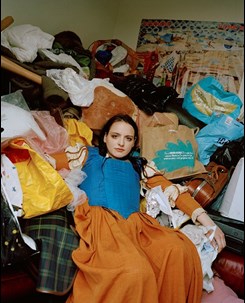 In the UK, Attention Deficit Hyperactivity Disorder (ADHD) is often misunderstood and is under-diagnosed. The resultant lack of support makes life harder, causing mental health problems.
Nora Nord reified the experiences of ADHD-diagnosed LGBTQIA+ people through her photographs that distinctively showcase, platform, and educate.
Ms Nord commented: "It took me a long time to realize that I, a creatively-minded queer woman, have ADHD because I never related to the stereotypical depiction of ADHD… I want to capture the struggle and the beauty of being neurodivergent, and I want to centre marginalized voices. I see connections between neurodiversity and LGBTQIA+ people. Both are shaped by people navigating in a world that was not made for them."
"I want people to see that ADHD is varied and beautiful and that neurodiversity is a gift. My goal with this project is to help people realize they have ADHD sooner and get the help they need. I would have gone years wondering why "I'm not reaching my potential" had I not found out about my ADHD when I did."
One subject in Ms Nord's photographs, Jade emphasized the role of objects as "an anchor" to keep her focused. She added: "I definitely need an anchor to keep me focused. I think that being in lockdown and being here alone and not seeing people, I definitely noticed how much I need an anchor because I will float."
Another Rosie expressed her connection with art through her diagnosis, "I wouldn't be doing art without ADHD, and I've learnt that my combined learning disabilities are what make me creative, and also very cheerful. It truly is just a different kind of mind. I think my humour comes from it too, and my fast brain means I can be witty because it is as though we are running on a different frequency than others. The only reason ADHD is debilitating, apart from rejection sensitivity, is because the world isn't built for us. But if it was, we would be ahead of others because we move at a faster pace internally or externally."
Winner to be announced next month
The six category winners plus one single and one series winner will be announced during an online event on Wednesday, July 28th at 5pm. The category winners will each receive a prize of £1,000, and the single image and category winners will each receive £10,000.
Credit to Morteza Niknahad and his submission The Big Fish for the title picture.