Celebrating Black icons, healing, and recovery during Black History Month
Greater Manchester Mental Health NHS Foundation Trust (GMMH) is currently showcasing an exhibition titled, 'Inspired, Uplifted and Proud' to mark Black History Month. The series of embroidered portraits, all created by services users of the GMMH Recovery Pathways, depict Black cultural icons, from Bell Hooks and Maya Angelou to George Floyd.
Each embroidered portrait, intricately detailed, colourful, vibrant and infinitely unique was hand sewn and embroidered by service users of the GMMH Recovery Pathways during their Black Arts Project. The subjects of each portrait were all individually chosen and researched by the service users who created them.
Black History Month, which runs from the 1st to the 31st of October in the UK is a time to observe, mark, educate, commemorate and celebrate the cultural and historical significance of Black people in the UK.
'Dig deeper, look closer, think bigger' this Black History Month
Since the outset of the pandemic, Black people have been disproportionately affected by the many society wide fall-outs in it's wake. From financial stability, mental health and housing the Black population in the UK has withstood a great deal of pain and trauma this past 18 months.
To add to this, the events following the murder of George Floyd on the 25th of May 2020, triggered intergenerational trauma that many, if not all Black people live with both consciously and unconsciously every day.
These two factors, the Covid-19 pandemic and the murder of George Floyd combined to inevitably have an adverse effect on the mental health of an immeasurable number of Black people worldwide.
The exhibition, 'Inspired, Uplifted and Proud', by Black service users in Manchester, symbolises the power of creative expression on the road to recovery for those who live with mental ill-health, and also stands as a testament to those who have experienced unprecedented trauma over the past year and a half.
The Black Arts Project that was the catalyst for these incredible pieces was designed and delivered by Michelle Ayavaro, a textile artist and Wellbeing Arts Tutor at GMMH's Recovery Pathways. Ayavaro also runs social enterprise, HerArt. The Black Arts Project took place during the pandemic and even throughout national lockdowns, taking place online through a series of virtual sessions on Microsoft Teams.
The power of art
Taking inspiration from the powerful and prominent Black Lives Matter movement (which picked up particular momentum last year), the project aimed to promote and celebrate positive images of Black people, whilst sharing the diversity of Black arts, history and culture.
The project also provided service users with a safe and comfortable space to connect with others, whilst improving their mental health and helping to reduce feelings of isolation and loneliness, especially at a time of significantly reduced contact with others.
Over 12 weeks, the service users were asked to choose a Black icon they found especially inspiring or interesting. The first step was then gathering and sharing facts about their chosen icon, and then with very little to no previous sewing experience, they were guided step-by-step by Ayavoro, to create the end result of the striking, hand-sewn portraits, some of which are pictured below.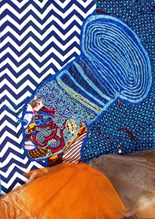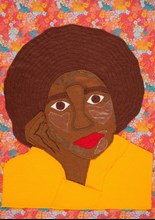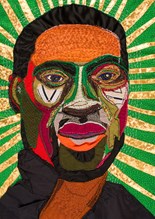 (from left to right) Beyonce, Bell Hooks and George Floyd.
To make sure they had all the equipment and knowledge they needed, packs containing materials and worksheets were delivered to their homes, as well as being provided with tech support and training on Microsoft Teams.
The outcome of this project was a series of incredibly detailed and bold portraits, that strike the viewer as being infused with personality, care, depth of feeling, empathy, admiration and love. As well as the portraits themselves, the participants have found kinship and friendship among each other that has lasted beyond the project.
Michelle Ayavoro, speaking on the Black Arts Project has said:
"Through the Black Arts project, I was able to introduce our service users to new artists and arts organisations, broadening their creative networks, and to teach them new creative processes, methods and techniques. The project also provided a routine and structure during lockdown, and a distraction from other difficulties in their lives. It also gave like-minded individuals a chance to meet, connect, and go on a new journey together. Overall, our service users reported an improved confidence and self-esteem, alongside a more positive outlook and motivation. I am incredibly proud of what we have achieved together, and I am delighted to see their powerful artwork recognised in the 'Inspired, Uplifted and Proud' exhibition."
An anonymous service user involved in the Black Arts Project spoke about their experience saying: "Through the project, I learned so much about inspiring Black women, both contemporary and historical. I also learned lots of new skills - I haven't done anything like this before! I've particularly enjoyed learning about colour theory - I've found myself more aware of colour in my surroundings and the effect different colours and combinations of colours have on my mood."
Specifically reflecting on how the project aided in sustaining their wellbeing and recovery through lockdown the anonymous participant said: "It's been good for my recovery to engage with other people and to concentrate for two hours a week on a creative project. The COVID-19 pandemic made me feel isolated and bored, and the lack of structure or stimulation in the day really challenged me. Having the course to look forward to every week has been brilliant and has given me something to focus on in between sessions."
To support the amazing work the service users and Michelle Ayavoro have done in putting the 'Inspired, Uplifted and Proud' exhibition together, you can visit for FREE, from the 1st of October until the 5th of January 2022. You'll find the exhibition at HOME in Inspire Gallery, find out more information here.
'On November 10th at 6pm, Mental Health Today will be hosting – 'How Can Trauma Inform Our Workplaces and Schools?' – a MHTLive webinar. Register now and develop your knowledge of Adverse Childhood Experiences and trauma, and learn how schools and workplaces can be transformed into centres of recovery and healing.'