What to get right in the discussion around mental health and LGBTQ+ communities with Mind
A lot of media that gets circulated during Pride season around the rates of mental health difficulties experienced by those in the LGBTQ+ community. As such, it is important to clarify what this means for people within the community, also how to best discuss it from the outside looking in. We spoke to Mind, to gain their perspective on this.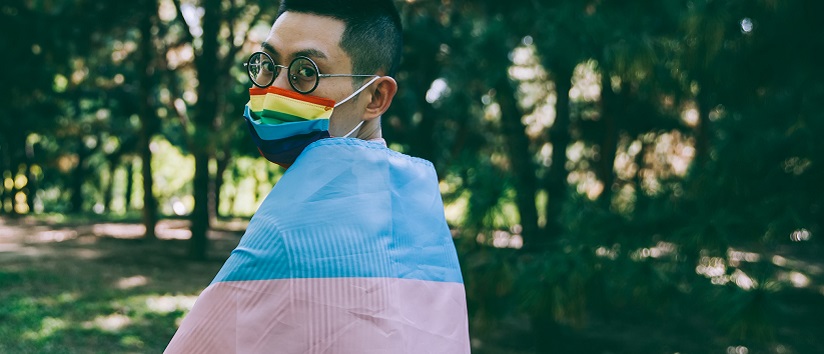 Content warning: this article includes mention of self-harm and suicidal ideation.

In the midst of Pride Month, Mind took to Twitter to support a trending hashtag, #transmenaremen as part of their ongoing advocacy and allyship with those within trans and genderfluid communities. As with many instances around the supporting of trans rights on Twitter, the statement of support was met with backlash from numerous anti-trans lobbying groups.
Among the remarks on Twitter, were that Mind was "delusional", "abusive", "exclusionist" and that they were "virtue signalling", a term that describes when an individual or larger group/organisation/company behaves in a way on social media or in the public eye to gain favour with those deemed marginalised, but for shallow reasons.
Mind responded to this barrage of negativity and anti-trans sentiment even stronger, re-emphasising their advocation for anyone and everyone "with a mental health problem, regardless of their experience or perspective" and that "We know that trans people are more likely to experience mental health problems and having their reality denied by those around them contributes to this."
Mind garnered much support and positive comments from those within the LGBTQ+ community
The response by members of the LGBTQ+ community and other allies however, was quite the opposite to those disagreeing with the initial statement of #transmenaremen. Michael Cashman, a Stonewall co-founder and also a member if the House of Lords took to Twitter to thank Mind, unequivocally, "Thank you for continuing your inclusive work and speaking out for those most in need and often denied or misrepresented…I stand with you. Together. Only together."
Off the back of this we wanted to speak to Mind, as a pioneer of mental health awareness in the UK about the discussion around mental health in the LGBTQ+ community, especially as it pertains to trans men and women. We got put in touch with Marcel Vige, Mind's Head of Equity and had the opportunity to ask them a few questions.
Why do you think it's important as a mental health charity to advocate for marginalised people such as trans men and women?
"We believe that everyone experiencing a mental health problem deserves support and respect. We know that too often those of us who identify as trans face higher levels of discrimination and isolation which can contribute to the development of mental health problems. Trans people may also have problems accessing mental health services, and having their problems taken seriously. It is crucial that we continue to highlight trans people's experiences and advocate for accessible and inclusive mental health services, and be there for everyone who needs us."
As a follow on from the previous question, why is it important to spread mental health awareness within the LGBTQ+ community, as well as how mental health specifically impacts those within the community, such as trans people, so that parents, teachers, employers etc. are aware?
"Anyone can experience a mental health problem but those of us who identify as LGBTQIA+ are more likely to develop problems like low self-esteem, depression, anxiety - including social anxiety - eating problems, misusing drugs and alcohol, self-harm, suicidal feelings, and other mental health problems. Being LGBTQIA+ does not cause these problems, and the reasons why those of us with LGBTQIA+ identities are more likely to experience them are very complicated. But it is most likely to do with facing things like homophobia, biphobia and transphobia, stigma and discrimination, difficult experiences of coming out, social isolation, exclusion and rejection."
"Within the trans community in particular, people report higher instances of mental health problems. It's important to stress again that the relationship is complex, and is not because being trans is a mental health problem or because identifying as trans causes mental health problems. We know that people who experience discrimination, abuse and hate incidents are more likely to experience mental health problems. Trans people can experience this from family members and strangers more often than people who are not trans."
What is your perspective on what we, as a society and as a country need to do to safeguard the mental health of trans men and women?
"Trans people are also exposed to difficult experiences, such as being referred to as the incorrect gender (misgendered) or being called the name they had before transitioning (deadnamed). Research by the Scottish Transgender Alliance found that over 80% of survey respondents had experienced "silent harassment [for example, being stared at/whispered about] for being trans" and nearly 40% had experienced "physical intimidation and threats for being trans".
"Other surveys of the trans community have found that they are more likely to self-harm, have suicidal thoughts, attempt suicide, have depression or anxiety, and have problems accessing help for these issues. Many trans people also report difficulties getting their GP to help with a mental health problem because trans mental health is seen as too complex. The exact way these social experiences translate into mental health problems is not always clear and requires further study in order to start to improve trans mental health.
As a follow up to this answer, Marcel Vige put together a bullet pointed list of ways in which it might be helpful to support a trans person's mental health and wellbeing.
"It can be helpful to think about how you might support someone who is trans. We recommend:
Don't make assumptions. Everyone's experience is different so try to avoid making assumptions based on what you already know about mental health problems or trans issues. Instead, ask the person what is going on for them, and try not to assume that any difficulties they are having are always related to being trans. While trans people might experience mental health and other problems around this, they can also experience a wide range of life events like anyone else that contributes to their mental health.
Be respectful. It is important to respect the identity that a trans person wants to be associated with. You should not use their deadname or misgender them and, if you make a mistake, be sure to apologise. Doing these things intentionally, repeatedly and with an intent to upset a trans person is considered discrimination.
Listen to their experiences. Growing up with a different gender identity means it's likely they will have faced negativity. They may feel worried to open up and speak about their experiences so giving them space to talk is important.
Show the person you care. Internalised homophobia, biphobia and transphobia means many trans people struggle with low self-esteem. It may seem obvious to you that you care about the person, but they may not realise this.
Support the person to seek help. You could reassure your loved one that it's OK to ask for help and that there is help out there, even if it's not always easy to find. If they would feel more comfortable using a trans service, you could help find one.
Read about trans issues. Many organisations have advice for anyone looking to support trans family members or friends. Mindline Trans+ offers a service specifically for trans people and can signpost to other organisations as well."
As Marcel Vige points out in their answers, discussions around mental health and those who identify as trans in the LGBTQ+ community are complex and there is no easy answer as to why people in this community may be more likely to experience difficulties with their mental health. So, it is all the more important to understand these complexities and the many reasons for them, understanding and connecting with people on an individual basis and making no assumptions will ensure their experiences and voices are heard.



If you or someone you know has been impacted by the issues discussed in this article you can find support and guidance with Mind's Mindline Trans+ website where they also offer a helpline for support and signposting at 0300 330 5468 and is open from 8pm till midnight Mondays to Fridays. 

You can also talk to Samaritans on the phone by calling 116 123 for free any time.