Here's how to treat patient's physical and mental health together
People with psychosis on average die 15 to 25 years earlier than the rest of the population, something a new pioneering project led by Camden and Islington NHS Foundation Trust is hoping to change …  
A five-year programme at Camden and Islington NHS Foundation Trust is aiming to reduce the mortality rate of people who have psychosis. 
It hopes to save the equivalent of more than 10,000 years lost to premature death, through tackling the poor physical health of people with severe mental health conditions.
Key targets include:
Reducing the suicide rate among psychosis patients by 20% by 2022
Cutting the percentage of smokers in this group by 2% by 2020
Widespread screening for diabetes in these individuals to stabilise levels to 18% or lower by 2022
Staff training
To achieve this, there has been enhanced physical health training for mental health staff, more rigorous physical health screening of those with psychosis and the setting up of physical health wellbeing clinics in more than five locations in Camden and Islington.
The skills will enable staff at community-based anti-psychotic drugs depots and wellbeing clinics* to undertake physical health screening and assessments alongside their other duties in relation to mental health care. 
Nayo Jobson, an assistant practitioner with one of the Trust's Assertive Outreach Teams, has undertaken training recently in phlebotomy, diabetes screening and smoking cessation. 
Nayo, who knows of four service users who have recently died due to physical health complications, said: "The extra knowledge and training gives mental health practitioners greater awareness of when someone is not well and what physical health interventions to push for."
By monitoring and assessing the physical health needs of the service users, at the same time as treating their mental health condition, the nursing staff are pivotal in enabling them to live, longer, healthier and happier lives.
Quitting smoking
The trust is already seeing success - 10% of service users in Camden and Islington, who have psychosis and who are involved in the initiative, no longer smoke thanks to the support they have received.  
Supporting the drive to cut smoking, more than 195 Trust staff have trained as Level 1 smoking cessation advisors, 26 to Level 2 and ten to Level 3. 
Deputy Chief Operating Officer, Andy Stopher, who is leading the "Integrated Practice Unit for Psychosis" project, said: "Our aim is to ensure our service users have the support they need to live longer, healthier and happier lives putting their overall healthcare on an equal footing with everyone else's."
Data dashboard
The project has recently secured £65,000 to help create a sophisticated data dashboard and analysis tool that identifies high risk of coronary heart disease, stroke, kidney failure and diabetes in those with psychosis.
It hopes to provide frontline mental health staff with key data indicating which service users' physical health most needs attention.
The dashboard will display risk indicators in one place, analysing data drawn from a separate physical health screening tool that mental health teams already use to assess service users.      
A service user's perspective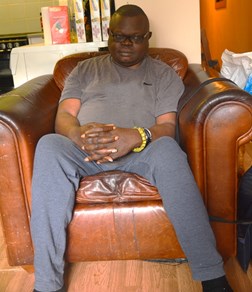 Ayo, a Camden and Islington service user has schizoaffective disorder and type 2 diabetes. He is being treated by the Trust for both his mental and physical health issues.
Having previously been sectioned, Ayo's mental health is now under control and he is working with Trust colleagues including Susan Cummins, Community Physical Health Matron, to improve his physical health.
With the Trust prioritising closer working with local health partners, Ayo is able to receive all the care he needs in a much more coordinated approach.
Ayo explains: "It has given me peace of mind to know that there are people in the Trust who are quite happy to work with me on my physical health."
The Foundation will be monitoring the 15-month development work to see if Camden and Islington's analysis method could be more widely adopted in the UK to improve health care quality.