Here's how to help people who hear distressing voices
Only 10% of people who hear distressing voices are routinely able to access evidence-based talking therapies. At Sussex Voices Clinic psychologists wanted their patients to not only be able to access the best care but for it to be constantly updated as their learning continued day-to-day …
Sussex voices clinic is the only one of its kind in the UK and is paving a pioneering path.
Most people who hear distressing voices in the UK will be offered antipsychotic medication. But if that doesn't help to reduce the distress caused by voices, in reality they may not get much else.
And if on top of that you are someone who doesn't have psychosis or schizophrenia, the two conditions most commonly related to hearing voices, the fact that you're hearing voices may not even be recognised.
At the Sussex Voices Clinic therapists work with patients irrespective of their diagnosis, more than half living without psychosis or schizophrenia. And as soon as a randomised controlled trial of a therapy shows some effectiveness, no time is wasted in allowing patients to use it in the clinic.
Dr Mark Hayward, Director of Research & Lead for Sussex Voices Clinic, said: "The reason we started the clinic was because I wanted to ensure that the therapy we had developed, rather than sit on the shelf for 10 years, became available to our patients as soon as possible."
In many NHS services research and development departments can live separately from clinical services, but not here. "We're really committed to this bridge between research and patient experience, the fact that it's traveled across so frequently is quite atypical in a positive way," says Dr Hayward.
"A great therapy that sits on the shelf is no good to anyone. We take it off the shelf and tweak and adapt it in order to make it fit with our clinical services and maximise the benefits for patients. It's one thing to develop treatments in an ivory tower and it's another to fit them to clinical practice."
Sheila Evenden is a former patient at Sussex Voices Clinic: "Hearing voices is part of my Obsessive Compulsive Disorder – I have tried various therapies in the past that haven't worked. The voices therapy for me has been a life changing experience in a positive way because before I didn't know what was going on.
"I could hear people I know talking to me. It was a constant dialogue that I didn't understand.
"Voices are with you from the moment you get up to the moment you go to sleep. They tell you to do things straight way, they threaten you. They tell you if you don't do what they say something bad will happen.
"I had no idea what to expect when I started the therapy and by the second session Mark was able to bring out the best in me. Therapy taught me to relate to the voices and helped me understand it was part of my condition.
 "I can now enjoy socialising and can cope with other problems. Without the therapy I know I would have ended up in hospital. The outcome has proved therapy has worked for me and has given me quality of life."
Buying a moment
Among other evidence-based therapies patients attend group mindfulness based therapy. "Mindfulness based therapy uses the principles of meditation to help patients to come off auto-pilot and buy them a moment or two before responding to the voices they hear," says Dr Hayward.
 "Quite often because the voices are emotionally arousing, patients can respond quite instinctively which is not always helpful. Sometimes when patients respond passively or aggressively they can unintentionally make a situation worse and the voices can become more demanding and distressing. We use mindfulness meditation to help someone respond in a more calm and considered way. There is an emphasis on pausing and choosing how to respond to the voices.."
The therapy also happens in a group rather than one-to-one in order to help people feel less alone. "The group aspect is really helpful," says Dr Hayward. "People can feel very alone, so it's very common in the group for people to say that at last they don't feel like the only one who hears and struggles with voices."
 And because the experience of hearing voices is so stigmatised, and what the voices say can be so personal, people don't often open up about what's happening to them.  "Patients can become very isolated," says Dr Hayward. "Group work helps to create a sense of universality. Patients begin to actively share ways of coping and derive a great sense of support."
"Sometimes there's a real sense of hearing voices becoming more ordinary – a problem that can be actively dealt with rather than something that's overwhelming and beyond control. It can be really helpful to have that sense of – yes I can manage this experience."
Clinician confidence
Feeling alone can prevent people from opening up about hearing voices but Dr Hayward also thinks the clinician's role is key. "Clinicians can feel anxious about people opening up about their experiences of hearing voices. It can be connected to past traumas, and there's sometimes a concern about where conversations might lead," he says.
"But if clinicians are delivering evidence based therapies they can be more confident the conversation they are having will be therapeutic and beneficial. We help clinicians to develop this confidence by offering training, materials and supervision to support the delivery of evidence based therapies."
Thick end of the stigma wedge
Stigma also plays a large part in preventing people from accessing help. "Mental health problems are increasingly being talked about which is great but there's a hierarchy of stigma. Unusual experiences associated with psychosis are at the thick end of the stigma wedge," says Dr Hayward.
"We've heard how a lot of people haven't disclosed their experience of hearing voices until they were in crisis. There are lots of barriers to talking about voices, but gradually through education we can begin to overcome some of them."
References
Basset T, Hayward M, Chandler R, Blank A, Cooke A & Reid J (2007) Psychosis Revisited: a recovery based workshop for mental health workers, service users and carers (second edition). Pavilion: Brighton 
Chandler, R. & Hayward, M. (2009). Voicing Psychotic Experiences: A reconsideration of recovery and diversity. Brighton: OLM/Pavilion.
Escher, S., Hayward, M., Kingdon, D., Pembroke, L. & Thomas, P. (2005). Learning to live with voices. Mental Health Today, December, 18-20.
Hayward, M., Blank, A., Chandler, R. & Bassett, T. (2007). Revisiting psychotic experience: listening hopefully. Mental Health Today, December/January.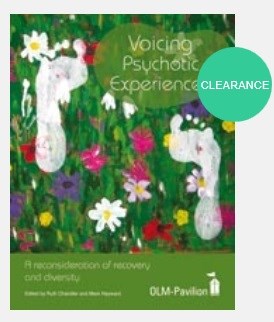 You can buy 'Voicing Psychotic Experiences' for only £3 today