Interview: Mental Welfare Commission for Scotland Chairman Graham Forbes
09 November 2018
The Very Revd Dr Graham Forbes CBE reaches the end of an eight year stint as chair of the Mental Welfare Commission for Scotland in March 2019. As the hunt begins for his successor, Graham answers a few questions about the organisation, and about the role. [This interview was conducted by MWC colleagues and is provided as sponsored content.]
"This is a dynamic organisation, which is doing far more than I'd been aware of."
Your first impressions?
I was amazed about how much we actually did. I was reasonably well informed about mental health issues in Scotland, but joining the team here and seeing how much what they were actually doing was a revelation. In its visiting role alone, the Commission visits every ward which treats people for mental illness, learning disability or dementia, alongside prisons, care homes and other places. I saw the huge demand that was actually there, and how we struggled to meet that demand.
Eight years later I'd say there's even more going on. This is a dynamic organisation which is doing far more than I'd been aware of.
What's changed most in the Commission in those eight years?
A major change was a new chief executive. The Board wondered how best to recruit this key appointment. In addition to a formal interview we invited representatives of our remit groups to listen to candidates' presentations and ask questions about how they saw the future of the Commission.  Our new chief executive is a lawyer, this is a first for the Commission and indicative of how human rights is at the heart of what we do.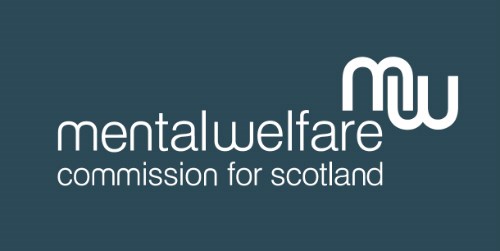 We also increased the transparency of the Commission by publishing all of our local visit reports on our website, allowing the public to access around 100 of these local reports a year.
Along with that, I'd highlight the decision to create two staff posts for people with lived experience - one with personal experience of mental ill health, and one a carer. To have those voices clearly at the table was saying that we in the Commission actually practice what we preach.
That same passion is equally reflected in the recruitment of Board members, as we always have a person with lived experience and a parent/carer on the Board. That is essential to the way we operate.
What have you found most challenging?
Some of our inquiries can be harrowing. When you read them, you sense the heartache of the next of kin; of how things have gone wrong. The critical thing is to establish what's happened, and to make sure the lessons learned are actually learned.  That's very easy to say, but when you have volumes of notes and interviews, distilling the wisdom into essential messages, and following through on them, is so important.
Your views on pressures on services?
Whether it's NHS or local authority services, or the third sector, when you go out and listen to patients/people who use services and family/carers, you see that the pressure is real, and they are doing their best.
I hope that mental health services being pushed up the political agenda, getting a higher profile, will mean funding issues are better addressed. You see people with learning disability or mental illness in desperate need, and you say please target more funds in that direction.
On how services are delivered, I'm sure the integration of health and social services is the right direction of travel. There are huge issues involved, but that long term integration must be good news.
Could you highlight any major policy changes coming in the Commission's direction?
The Government's commitment to reform of the Adults with Incapacity Act can only be good. We have called for this for some time, because the current system is too cumbersome, and doesn't always put the voice of the person with dementia or learning disability at the centre. Getting those changes right will be a major priority in the next few years, alongside making human rights central to Scotland's mental health strategy. While it is not in the legislative programme, we also believe the Mental Health Act is in need of reform.
Commission staff are asked for advice on these subjects regularly. Through our advice line, our staff help people on what can be a lonely journey trying to do what's best for their family, as well as helping professionals with the difficult dilemmas they face. They also regularly advise individuals who are seeking help about their own care and treatment.
Any final thoughts for prospective applicants?
You will inherit an experienced, free-thinking, critical Board that's not frightened to challenge, that speaks the truth as it sees it. And you will inherit a chief executive and staff who are 101% committed to the task. That, combined with the raised profile of our work, means my successor is knocking at an open door.
I'd also say, think of the organisation as both a guide dog and a watch dog. We can, and will, be critical when needed. But our biggest role is in offering guidance, which is why our good practice and advice documents are so important. These are not written by someone sitting in an ivory tower, but are written by staff who go round hospital wards and other places meeting people, and are based on the wisdom that can be distilled from that.
Being chair of the Commission really is a unique role. I encourage anyone interested to contact Colin McKay, our chief executive, for further information: